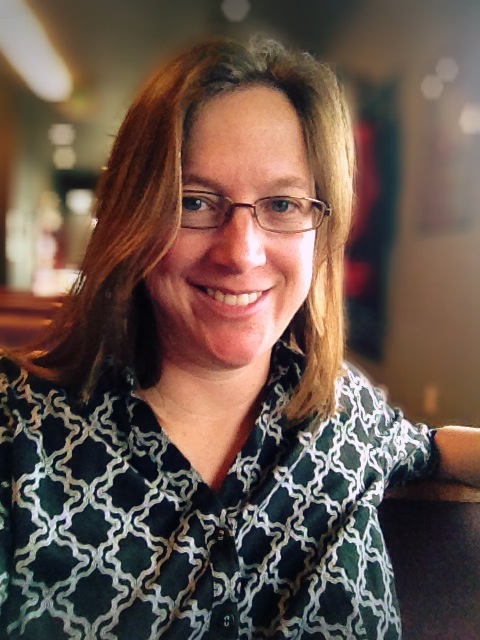 Leslie Madsen-Brooks is a professor, public historian, and academic technologist.
In 2015, Leslie became director of the IDEA Shop (Instructional Design and Educational Assessment) at Boise State University. She works with a fabulous team of five instructional designers, as well as staff at the university's testing center. In this role, she helps faculty better understand the theory and practice at the intersection of pedagogy and technology.
Since 2010, Leslie has taught history to undergraduate and graduate students at Boise State University in Idaho, though her academic pedigree is not steeped in history.  She majored in English at Grinnell College, then earned a Master's in writing poetry from the University of California, Davis before going on to earn both a Master's and Ph.D. in cultural studies from that same institution.  Her interdisciplinary background has brought her to students in many different disciplines; since she first stepped into the college classroom in 1999, she has taught literature, composition, American studies, museum studies, U.S. history, and public history.
In addition to teaching, Leslie has served in many professional roles. Prior to arriving at Boise State, Leslie served for three years as a university teaching consultant who helped faculty interested in becoming more thoughtful about teaching undergraduates. Prior to that, she worked in academic technologies, arts marketing, print journalism, educational publishing, and development communications.  Leslie also has significant experience with hands-on science learning; she served as an outreach specialist, exhibit developer, and program evaluator for a science center, and she has developed science exhibits incorporating dozens of varieties of insects and reptiles; crafted the interpretive plan and managed summer staff for a demonstration farm at a state fair; and made significant revisions to a watershed education program for elementary-age students.
Leslie's research has been similarly diverse. Her interest in science centers led to research into the intersection of gender and science centers, which in turn led to a dissertation on the roles women scientists played in shaping U.S. natural history institutions—primarily the Smithsonian and museums, gardens, and zoos in California—between 1880 and 1960.  She is currently researching women's contributions to the public understanding of California horticulture from the late 19th through the late 20th centuries.
Despite the backward-looking focus of her research, Leslie is also interested in how digital technologies—and especially mobile devices—can democratize learning and engage broader audiences with science and history.  She is the founder of the fledgling, not-quite-yet-launched Boise Wiki, and she blogs occasionally at several sites, including The Clutter Museum (her personal blog), Museum Blogging and The Multicultural Toybox.  She twice served as a Mobile Learning Scholar at Boise State University (in 2011 and 2012), and in 2012-2014, she co-directed the university's first effort to integrate mobile learning across an academic program—in this case, the History department's Master of Applied Historical Research.  In 2013-2014, she SERVED as the university's inaugural Digital Arts and Humanities Fellow, under the auspices of the Boise State Arts and Humanities Institute.
Leslie recently has written about how digital technologies are democratizing the practice of history.  You can read online her book chapter "'I nevertheless am a historian': Digital Historical Practice and Malpractice around Black Confederate Soldiers," as well as her essay "Engendering Online History: Wikipedia vs. Ancestry.com—Historianship at a crossroads."  She has written for The Blue Review, and one of these pieces, on universities "disrupting" themselves from within, was picked up by the London School of Economics.